If you've been an avid fan of Supercell games, then you're in for a treat because we have some fantastic news for you.
Unless you're living under a rock and don't recognize Supercell, allow me to give you a very brief refresher.
Remember that popular multiplayer real-time strategy game Clash of Clans that hit mobile gaming back in 2012? Yup, it's the same company. And this news of "Supercell set to release three new games" is quite fantastic on its own.
Since then, Supercell has massively expanded its gaming HQ, released several more hit games such as Clash Royale, based in the same "Clash Universe" as Clash of Clans. Another of my personal favorites is their Boom Beach.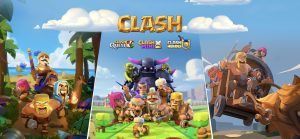 Perhaps the reason for Supercell's tremendous success is the lack of excessive advertisement.
These mobile games are based on constructing or upgrading your arsenal, followed by long waiting periods.
Instead of advertisements, what Supercell does is, offer premium currency to speed up things. Another part of their revenue system is the option to purchase seasonal game passes for in-game events.
But, enough of that now!
Let me break down the trailer for Supercell's three new games for you!
1. Clash Quest
The first game, called Clash Quest is again, set in the Clash Universe (as are the other two games). We see the familiar troops: Barbarian, Archer, Wizard, and Prince in the trailer.
The game's premise seems to be on a fixed number of troops you take into battle against preset defenses.
Think of the single-player campaigns in Clash of Clans, but as a board game. The idea is to place troops on a tiled board in rows. The troops and the defenses take turns engaging in battle. As your front row is defeated, the next row comes up and continues the battle.
What's the gimmick here?
The gimmick in all this comes from making combos by placing similar troops together. For example, a row of wizards or barbarians will synergize and do a combo attack, dealing more damage.
Obviously, there is room for in-depth strategy, as a lot will depend on the troop placement throughout the board.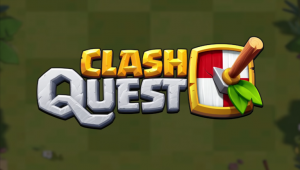 More possibilities of a larger tiled board!
Just imagine the possibilities on a 3×4 tiled board. Perhaps we can expect to see some exclusive combinations such as those in matching tile games like Candy Crush? And even expect to see mixed troop combinations! Exciting!
In fact, I have been discerning as many game plans as possible the moment I felt and heard the news: Supercell set to release three new games!
So, another exciting aspect introduced in this game for the first time is equipment for troops. Troops can now be equipped with various items such as weapons and armors that will affect combinations and the overall complexity of the game.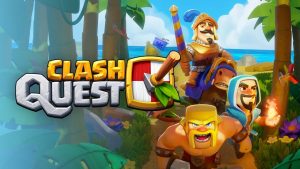 You can lose if your troops run out before you can conquer the defenses.
Remember, you can only take a fixed number of them to a battle. The game seems to feature an archipelago through which players can progress. It appears to function exactly like a campaign.
Conquering more and more islands will increase troop capacity, add more and better troops to your arsenal, all that good stuff.
Also Read: Announcing Three Unique New Clash Games in Development × Supercell
Well, that's enough for Clash Quest by Supercell, still in development by the core studio in Helsinki, Finland.
The remaining two games under the news: "Supercell set to release three new games!" are being developed in Supercell's HQ in Shanghai, China.
Let us take a look at them as well.
2. Clash Mini
The second game showcased in the trailer is Clash Mini. Imagine a busy highway intersection where time freezes suddenly and all drivers lose control of their vehicles.
Except, the cars are miniature versions of their original self. Now, everything is suddenly resumed, and lo behold! A chaotic situation. This is what I took from Clash Mini.
A totally different board game in comparison to Clash Quests.
Like Clash Quests, Clash Mini is also a board game, in the sense that you place troops on a board, but there are major differences.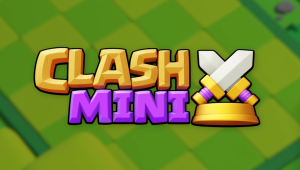 Players pit against each other by first placing all their troops on the board. Once all troops have been placed, the match is started. After that, troops start moving forward and engage in live combat with whichever enemy they face first.
A relaxing gameplay crafted for Clash Mini by Supercell.
The game is designed to be much more relaxing than some of Supercell's other games as the only strategy comes in placing the troops in the beginning.
After that, all a player can do is sit back, relax and watch the mayhem. It blends the complexity of a board game from Clash Quest with live combat from Clash of Clans or Clash Royale while still being a light experience. Very promising!
Fascinating miniature versions players already are fond of!
Another fascinating thing about Clash Mini is its miniature versions of our already beloved iconic characters from the Clash Universe.
Also read: Game Review: Hollow Knight sets a new threshold | Popularity
It is intended to give an image of these characters themselves playing a board game in their world. Overall, it seems a very promising game for the younger audience.
3. Clash Heroes
The last game for this gaming news: Supercell set to release three new games! takes a sharp detour from the usual strategy route the company has been exploring.
An interesting RPG gaming experience.
In Supercell's Clash Heroes, the player assumes a single hero or character from the Clash Universe. It seems to play exactly like one of those top-down view RPG games. If you've played games like Spiral Knights or perhaps Bastion, the experience will be similar.
If we look at the controls as they seem in the trailer, the left thumb will be used to control a movement cursor.
Also Read: Five Upcoming Marvel Movies in 2021-22 – Popularity
Though, the right thumb attacks and possibly activates various abilities. In addition, the trailer for Supercell set to release three new games announcement shows some epic boss battles too.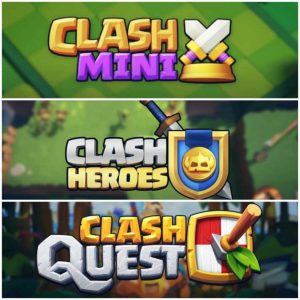 There will also be some customizations available for your Heroes. Apart from that, nothing much is showcased about Clash Heroes as it is still in early development.
Conclusion
Overall, Supercell is a big name in the mobile gaming industry, delivering successful games consistently.
So, when I heard the "Supercell set to release three new games" announcement, the feeling is mutual that the stakes are high.
However, these games are still in early development and may be subject to major changes. The final products may be far from what we expect but nonetheless seem very, very promising.
I hope you enjoyed reading this trailer breakdown of Supercell's three new games as much as I enjoyed writing it. 
Do keep following us for the latest updates and comment on which game you are looking forward to play the most!