Dish racks are definitely worth the investment. That is if you consider the old-school way of drying your dishes over today's dishwasher option. It can cut down on your electricity bills and reduce your carbon footprint. Thereby serving as an eco-friendly option.
Today's dish racks for drying dishes come with improvised solutions, and you don't worry over traditional dish rack problems like:
Occupying too much space,
Collecting drip water, and
Using stale damp towels below the racks.
Dish racks for drying dishes in the market have convenient designs matching the ideal appeal. They have different features and materials.
Today we will look at the pros and cons of using wooden and stainless-steel dish racks. This guide will concretely help you choose the best dish racks for drying washed dishes.
That is also without breaking your bank too much.
Dish Racks For Drying Dishes Guide:
Wooden Dish Racks
Choosing a wooden dish drying rack gives a classic look to your kitchen. It adds a natural effect with a rustic motif to your cooking space. They inherently look elegant with the wooden finish and can complement a neutral look.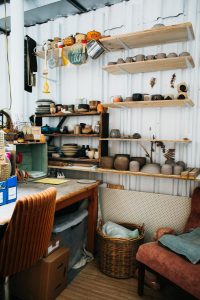 A wooden dish rack would blend in very nicely if your kitchen's interior design sports neutral shades and vibes.
Pros of wooden dish racks:
1. Eco-friendly:
Wooden dish racks are mostly made from bamboo. Once disposed of, it's not difficult to repurpose or recycle because of the natural ingredients/material.
2. Sturdiness:
The wooden dish racks boost sturdiness in their stature. They can carry a lot of weight if the rack is ergonomically designed for holding loads of dishes. That is often the feature and strength of modern racks for drying washed dishes.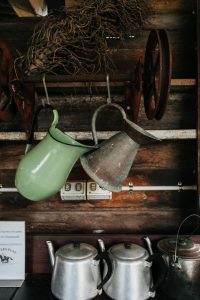 They come in various capacities with multi-level storage. That is for storing a combination of differently shaped cutlery items.
3. Foldable:
Most wooden racks come with a unique X-shaped design and are foldable. You can quickly remove these from their place and keep them aside when guests arrive.
Cons of wooden dish racks:
1. Low life span:
Wood inherently has a lower life span than other materials like stainless-steel, silicone or plastic.
The rack's wooden frame is susceptible to molds and water stains, as wood absorbs moisture over time. This hinders your choice to pick wooden dish racks for drying dishes for a long period option.
2. Difficult to maintain:
A bamboo wood rack requires care and oil treatment to maintain its shine and clean wooden look. If you're not up for this TLC effort, think twice before investing in a wooden drying rack.
3. Collects dirt easily:
The nature of the wood makes it susceptible to accumulating dirt and grime. It is a natural, absorbent surface that attracts and sticks dirt more easily.
Sometimes cleaning this up would require time and effort. Although they can be cleaned with mild soap and water, frequent washing can affect the longevity of the rack.
4. Bulky and occupies counter space:
Although aesthetically pleasing, a wooden rack occupies more space. It doesn't even have a draining board. You are to use drying mats or absorbent cloths. That's one thing extra you need even in your small kitchen to dry washed dishes.
Plus, you need absorbent clothes to prevent water from clogging around the sink or washing area.
Stainless Steel Dish Racks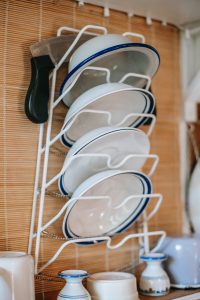 Stainless steel racks also come in beautiful and aesthetically pleasing designs.
They usually have a wider range of designs. These are also flexible in:
Storage,
Size,
Mounting type,
Finishes,
Adaptability and customization
Some combine silicone parts for more functionality.
Pros of stainless-steel dish racks:
1. Longevity:
Stainless steel has a long life when it comes to serving its purpose. It is rust-resistant, so it ensures a long life span.
2. Customization and variety:
Stainless steel dish racks for drying dishes have various designs. Choose a small over-the-sink design to save kitchen or counter-top space.
There are wall-mount varieties to free up other kitchen/counter space otherwise.
Place wall-mounted steel racks above the sink to avoid using drying mats. Some are collapsible, so it's easy to fold and remove them from sight after use.
3. Easy to clean:
Stainless steel dish racks for drying washed dishes are cleaned up easily. Some totally disassemble, so you flawlessly clean the same.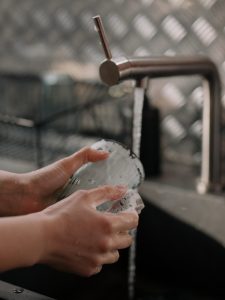 Cleaning separate parts of dish racks saves time. Stainless steel racks are also dishwasher-friendly in most cases.
Cons of stainless-steel drying racks:
1. Oxidation:
Although rust-proof, stainless steel can oxidize like any other metal, especially if it's not made from high-grade stainless steel.
2. Fixed designs can consume space:
Some stainless-steel dish racks for drying dishes are installed permanently. It's impossible to move them without breaking the portion: wall or any mount that is helping them stick around permanently.
Some have fixed dimensions with limited or negligible customizations according to your sink or counter space dimensions.
This can restrict your choice when buying a dish cleaning rack even though it may have other features to explore.
Verdict For The Best Dish Racks For Drying Dishes:
A dish drying rack can be a perfect utility item in your kitchen. Whether you choose a wooden or a stainless-steel dish rack, consider factors like:
Ease of loading/unloading of dishes,
Space constraints,
Detachable parts,
The volume of dishes, etc.
Today dish racks for drying dishes have a combination of materials too. For example, stainless steel with silicone or nylon coating and wood with steel parts.
Get choices of dish racks for drying, washed cutlery or draining boards from the best brands at Homesmiths.