Every person who owns a site wishes to make it liked by their targeted readers. Ultimately, that's the aim: to sustain the site in the long run. Because without readers or subscribers, what's the point of spending hours on your website?
Therefore, I have curated this detailed listicle for your benefit. Understand how you can get more clicks on your website with ease below. But keep reminding yourself that you have to be an active person to follow all the tips mentioned in this blog. If you think simply reading the points would give you a boost, and your site will start earning traffic on its own, you're mistaken.
Ultimately, it's both your hard work and consistency that pay off. Without doing the right steps (mentioned below), you will always be in doubt. So, these steps, which I am explaining from here on, are what I have followed most of the time myself.
And these tricks and tips actually work. That's why I am confident enough to list them below and help you increase website traffic organically.
12 Effective Tips To Get More Clicks On Your Website Are Here Now:
Be regular – create a content calendar.
The biggest benefit of content calendar strategy is that you are never out of ideas to write content on your site. You can take one week to one month to ideate, plan, and strategize at least 6 to 12 months of content on your website.
This way, you are never out of rich, worthy, and trendy ideas. It's one way to flourish and bank on the evergreen and top-ranking niche-related content for your personal, professional, or branded sites.
Write long content to target more niche-related long-tailed keywords.
Simply writing regular content on your blog isn't going to make you an overnight star in your website niche. You have to buckle up and act smart. And one of the smartest content marketing and strategizing ideas is to write full-length content.
This can be any blog ranging from 1,000 to 5,000 words. But make sure each line or pointer explained in such a blog or article is useful. Avoid writing average or run-of-the-mill content.
The target audience already has a short attention span. And YOU mustn't bore them. It will cost you the CTRs – which is actually going to hurt the profitability and popularity of your site.
Besides that, writing long content eventually means more words. That means? Your one blog is uses more words related to a particular topic.
Mark that those words should be useful in stimulating user interest. If that's possible, your blog will start to rank organically on different search engines including Google, Bing, DuckDuckDoo, Yahoo, and the like.
Write clickbait headlines but with regular practise.
Let's not make a fool out of ourselves into thinking that we can write boring titles and expect 1 million views in a day. If you are doing that, revamp your perception. The former view won't make you or your site viral.
So, eventually, you have to see what type of headlines are getting clicked more.
Words like "Breaking News!", Updated list, free content or tips, latest news generate more clicks. Add a number to the heading, and you will definitely up your chances for increased impressions and CTRs.
But don't just club random power words. Make sense out of the headline you write for the published article or blog.
Many copywriters say that writing the headline to generate revenues is an art on its own.
It takes a lot of creativity, empathy, and trend knowledge to come up with a headline that can go viral in hours.
To grow that skill and insights, read viral sales copies, Ads, and newspaper headlines. Later, practice writing eye-catchy, curiosity-driving, clickbait-rich titles at least 10 times a day.
After that, request your trusted circle to read it. They let you know which line is the best and most interesting one amongst all others they read.
Pick necessary keywords with at least 1000+ search volume. 
Often, new bloggers make the mistake of choosing the wrong keywords to target. This affects their monthly and daily traffic on the website. Use sites like Ubersuggest, Answerthepublic, KeywordFinder, Google Trends, and your own site's Google Analytics to study keywords carefully.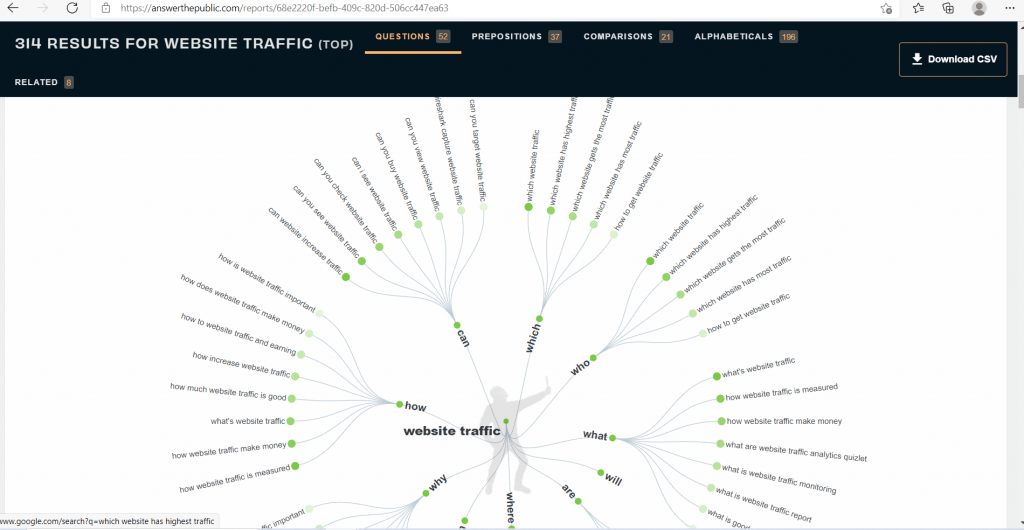 You can take 2-5 days to completely research what type of keywords to target for better Google rank.
Choose informational keywords and target even local keywords if possible. This will help in boosting the local SEO of your site. If that is a success, you can start gaining readers from nearby locations in no time.
Also, make a blend of short, long-tailed, viral, engaging, and new-gen keywords. Don't always target long-tailed keywords, even though it is necessary. At times, you can write really good content for short or viral keywords.
To know the viral keywords, keep up with the news. It educates you about the topics your targeted audience/customers/readers are interested in. But it should also pertain to the niche of your website.
E.g., don't make a blunder by reading Bollywood news when you have a website on health and fitness.
Keywords having 1000+ search volume with less SD and PD in the Ubersuggest tool are helpful in getting more clicks for your website.
Such keywords have generous traffic to boost your beginner's blog or site. Also, these keywords must have less than 30 SD and PD for less competition and easier SERP tactics to follow through.
If you can get such a combination of words related to your niche, then you have hit the bullseye. At least, you won't face intensive competition while writing content based on those selected keywords having a low SD and PD score.
Cross-check the on-page SEO score for each blog or article.
There are ways to achieve a proper on-page SEO score following several tasks after you're done editing and proofreading the content. For instance, use proper H2, H3, and H4 headline tags in your blog.
Besides that, find the right primary and secondary keywords. Use them wisely in the blog/article, maintaining the keyword density.
Another important step is to ensure you write the best meta-title and meta-description suited for the current blog you're working on. Pay more attention to the meta-description. It should be error-free, contain your blog's primary keyword, and not be plagiarized.
Similarly, end each blog (if possible) with a conclusion, summed-up points, verdict, or a strong CTA.
CTA (Call-to-action) directs your customer or reader base towards a particular course of action after they are done reading the article.
Another point to increase/improve your blog's SEO score is to use next-gen images. And each such image, especially the featured image of your blog post, must have "alt text."
This text narrates the image's purpose which Google and other search engine crawlers read. That's because then they know if the image is relevant and adds value to your blog/article piece or not.
So, choose royalty-free images from sites like Pexels.com or Pixabay.com. I use those sites mostly for my blog posts.
Update old blog post on your website.
Another effective yet easy way to get more clicks on your website is by improving the older content. Often, bloggers think that older content is of no use. But they are again mistaken. Some of the older, evergreen content can still be ranking better in Google SERP or other search engine pages.
However, with time, some content needs slight tweaks or changes.
E.g., what was trending in 2020 or 2021, is not necessarily going to trend or get your site more clicks in 2022 or thereafter.
So, make a schedule to re-read the content of your website. Do it at least twice or thrice a month. Check for unknown errors, spelling mistakes, broken links, bad images, or half-written or ambiguous sentences.
Improve the sentence structure over time as you gain more experience. Type certain lingo here and there which resonates better with your target audience. Use more trendy words in your blog/article once in a while to get it ranked up in the SERPs.
Or else, you might have new information about any old topic.
Instead of creating a new blog, write more content in the old blog post. It makes your content thicker and more credible.
That's one of the genuine and hard-working hacks to get more hits and clicks to your website. And it's organic too, which means it is purely white hat SEO. In other words, Google and similar search engines love it when you upgrade the quality of your older or existing blog posts instead of writing new but thinner content.
Upgrade interlinking of articles and blogs on your site.
I get it that hyperlinking the content and important keywords in your blog or article is important. But each hyperlink should make sense. Don't just blindly go on hyperlinking every possible sentence. It will look like spam and annoy readers.
Further, Google will start penalizing your site for this kind of attitude or behavior. You don't want that if you need to improve the CTR of your website or a particular blog post.
Instead, start making a sensible pair of blog posts on your website. Think like a user after you're done writing the initial draft of your blog post. Know the important queries a reader might have in his/her mind after finishing with this content you're posting.
Then start writing content on those topics to improve and increase the time each user or reader spends on your site. This will increase the CTRs for sure.
Another way to start interlinking blog posts on your site is to make a content calendar first. This way, you know the major topics you will be covering one after another in the coming period. The blog posts on your site won't be random, and each one of them will make more sense to a particular reader.
And once you start uploading blog posts one after another, interlinking them becomes easier.
Start a newsletter to draw more organic traffic to your money-making site.
Another best way to date to get more clicks on your website and make more money is to start a newsletter for your valuable subscribers. Give them loads of new, tested and tried information, exclusively through your newsletters.
It will make your readers feel privileged to get the heads-up on the content you're preparing or about to launch. Moreover, you can run contests, events and send out invitations for the same to your subscribers.
It's all to pique their interest in your branded website. And to never run out of ideas for your newsletters, you can hire an official newsletter maker or writer. Or, once again, make a content calendar for your newsletters, but it should resonate with the blog posts on your site.
Another hack is that you can give your readers a snippet or teaser of the content that's coming up the next week on your site. Send over a reminder to your subscribers to stay tuned for exclusive information, offers, and blog posts that are well-researched from your time.
If you continue the newsletter in the same manner for at least 3-6 months, without any disruptions, you can genuinely grow organic traffic like no other. That's because, most of the time, consistency is the issue. Not many bloggers out there can maintain the same level of their creativity for 3-6-9 months.
That's also because they are writing dry, not evergreen, or too boring content without researching well. So, that's where you can take the most advantage. You can take a break for a week or a month to make the entire calendar for the year ahead.
This way, your site and email list are never running out of ideas or ways to entertain your fellow readers. That's what most of the readers want, some sort of consistency so they can begin to trust the brand itself. When you achieve that determination, you are never going to fall back on earning organic traffic for your website to continuously make money every month without effort.
Write guest posts on other websites with a stable DA and PA.
Become a branded author and writer. Write guest posts on multiple websites online. Google the terms: "Write for us," "Ghost writer needed," "Write free guest posts for us," "Guest post needed," "Free guest posts required," and you will find plenty of opportunities.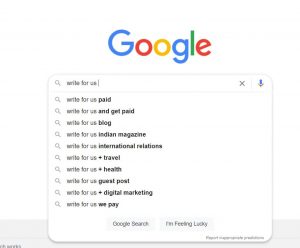 With these opportunities, you can pick your favorite sites to write the content for. When you write content on those sites, don't forget to hyperlink the most valuable keywords that link the reader back to your money-making website. 
However, ensure that you're not submitting your well-written articles on a spammy website. That can negatively impact your site's DA or PA. You want to increase the E-A-T ratio of your site instead. So, write articles on the website that at least have 30+ DA and PA initially.
Gradually, as you become a known brand or author, move to websites that have 60+ DA and PA. And other website owners/managers will start inviting you to write a detailed blog post on their site once you're a known writer in that niche.
Again, consistency matters here. Pay hard and regular attention to this word: Consistency. You have to choose a website regularly to write content on those sites.
Don't think that writing one or two guest posts will direct heaps of organic traffic to your website.
Initially, it's quite hard work. But if you cross a certain threshold of writing regular guest posts, say about 5-10-15 per month, things become easier down the line.
Submit writeups to Quora or Reddit to direct quality traffic to your main website.
Quora and Reddit are well-established question and answering websites. But that doesn't mean there aren't any other community websites online to access except these two. However, these two generate quite a lot of traffic daily. And they both have strict rules against spam and superfluous content. That means you cannot simply just post any content on these two sites.
Therefore, the quality of the traffic you generate and direct from these sites to yours will be higher and better. That's actually what you need to get more clicks on your website effortlessly daily.
So, learn to submit your answers, questions, stories, and blogs on these two sites. Do it regularly but do not get your account banned or kicked out of communities because of spam or inactivity. Plus, being an active member on these two sites can teach you how to be active on your site as well.
Many bloggers also get new and latest ideas for their sites from these two platforms. That's because people come here to discuss, ask, and answer several queries. Some of it can still be old news for you, while the other works like a bucket of fresh ideas.
Also, be mindful of not inserting too many links to your website in one Q/A or blog that you post here. Otherwise, it can hinder your organic views on these platforms. Most importantly, admins can mute or delete your post instantly there if they find that you are promoting your affiliate links repeatedly.
To avoid that, take genuine interest when you submit your blogs, stories, articles, or Q/As here. This way, people will go to your profile and trust you more. That eventually leads to amplification of your trust factor online. Once that's established, every content you post will definitely get a good reach.
Promote your website regularly on FB groups.
Another medium to get more clicks on your website is, without qualms, FB groups. I am sure the majority of the readers have created FB accounts at least once. Most of us are using it regularly to connect with people. But new bloggers don't often see that FB acts like a gold mine for us writers.
By joining FB groups with at least 2,000-10,000 active members, having 10-100 daily posts, you have strong chances of going viral. When you're new in the blogging world and business, don't jump easily to the groups having 100k+ or 1 million + members. That's because joining such groups gives you no reach to connect with other bloggers. These groups have more than 1000s posts daily. So, each post gets wiped out from the screen easily.
Instead, be smart enough to join groups having lesser member count to build a loyal reader base. Start from there, make real blogger friends, know their queries and issues. Try to solve them regularly and sound genuine. The technique is more or less the same as you apply on forums like Quora and Reddit.
Plus, there are promotional groups on FB. They help you post your website's direct link regularly. With this, you can get a chance to increase the referral or direct traffic to your website.
Write on other microblogging websites to direct the readers from there to your main site.
There are multiple microblogging websites online like Medium.com, Tumblr.com, Facebook.com, and LinkedIn.com. There you can write and upload content for free. However, hosting and blogging sites like WordPress.com, Blogger.com, Wix.com, Joomla.com, Jimdo.com offer you free and premium versions.
In the free version, you can't really host a website with your unique domain. For that, you have to buy paid plans. And do it only when you're planning to make another commercial blogging site. Otherwise, make use of freely available blogging sites to direct the traffic to your primary money-making site.
But always keep a note not to upload spammy or plagiarized content on these microblogging or web 2.0 sites. Because otherwise, Google has full rights to penalize your main site. If that happens, the reputation of your site degrades, and then it takes a lot of time to remove the spam that's directed to your site.
Conclusion:
I have listed only some of the common ways to make your content generate or get more clicks on your website. But it doesn't mean that there aren't newer ways to establish or explore. If you are curious what other tricks you can apply to your content or money-making site, keep updating your information.
Read news and latest articles like this one. Then follow new-age bloggers belonging to your niche. See what your competitors are doing. Follow their social media presence and reputation.
Use your website's Google Analytics and Search Console (earlier name: Webmasters) tools. They both help you understand various readers you are getting on your blogging site. Understand and study their engagement metrics and behavior on your site using the Analytics.
Accordingly, adjust the content calendar to please your target readers/subscribers. Also, these tools inform you about the sources you are getting the maximum traffic from. If it's one of the sites you are uploading the secondary content on, then you have hit the jackpot.
In short, you would know which sites are working best in favor of ensuring that your money-making site goes viral in no time. But don't ever compromise with consistency to get more traffic on your site.