Putting up a long review of a crime thriller isn't possible until one gets under its skin. But I have to be extra careful not to spill the beans of the story.
Anyway, I am here today to discuss my latest crime thriller read: The Lost Woman of Santacruz by Vijay Medtia.
My past encounter with Vijay's novels:
I have known Vijay for some years through his last novel, 'The Missing Husband.'
Oh! What an experience it was: superb, charming, and flawless!
Once you fall in love with a crime thriller novel that keeps you hooked and impressed, you expect similar feelings from all upcoming books. That's a gamble a good writer puts you in.
Anyway, after having great hopes, I picked up The Lost Woman of Santacruz by Vijay Medtia. Luckily, like the previous one, it was also back-dropped against the unsettling hustle-bustle of Mumbai.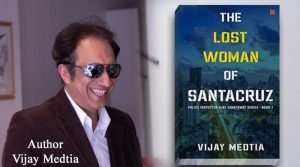 The 1990s era with pure bliss in his novel:
To be honest, Mr. Medtia tried to create a similar kind of magic in this book. For instance, it's set in the 1990s with a limited mode of communication. It also has an untimely eating culture of the city, its rain and so on. He succeeded in doing that. It is commendable…the job is done in, good way.
My constructive rating for Vijay Medtia's work:
Excited to know about Vijay's stories and narratives he brings on the table for readers to devour?
I would say I will give ten out of ten to 'The Missing Husband' and eight points to 'The Lost Woman of Santacruz.'
Creative differences of both of his novels, in my opinion:
One thing is evident in Mr. Medtia's novels – he starts the case with almost no clues.
In the last novel, the lead guy was a private detective who worked for the police force but left it, citing them as "donkeys." This time the lead guy is the Police Inspector Ajay Shaktawat.
The last novel was about a missing husband and other crimes occurring in between. But The Lost Woman of Santacruz by Vijay Medtia emphasized more on ideal and ruthless murders.
By killings, I am referring to two retired policemen found dead who once worked together to commit horrendous sins. It's a case of comeuppance. But Ajay Shaktawat has to dig deeper for links that can get him results.
Also Read: Five Upcoming Marvel Movies in 2021-22 – Popularity
The Lost Woman of Santacruz by Vijay Medtia Brief Summary:
Let me get straight to the story. As the novel opens, a retired DCP named Chandra is found brutally murdered in his home in Santacruz. The police find one more guy, severely injured. But he succumbs to his injuries before being of any help to solve the case.
Ajay Shaktawat is handling this case thereafter. With no clue at all, the entire case is no less than a tough game for him. To add fuel to the fire, his marriage is crumbling with Nisha who is hell-bent on filing a divorce. His two kids are suffering.
Ajay Shaktawat's mother lives alone. She is way dominating. There is pressure from higher officials to solve the case quite soon. His boundaries are falling apart from all sides. He has to save his marriage, job, and reputation.
Also read: Game Review: Hollow Knight sets a new threshold | Popularity
The big question: Will he be able to do that?
After running and acting upon follow-ups, he finds that DCP Chandra used to live with a woman named Renuka. But she is missing in action at present! It defines The Lost Woman of Santacruz by Vijay Medtia title, after all.
The Lost Woman of Santacruz! But why is she missing? Is she on the run after the murder?
Questions keep haunting him day and night until she is caught. The mission to find her leads Ajay Shaktawat to Pune. With the help of one old friend/cop, he gets hold of this woman.
The big revelation: her real name was not even Renuka!
Who is she then? Guesses?
Well, she's Renuka's sister!!
So, what next, an average reader wonders just like me as I tread through? Later, she discloses DCP Chandra and his acquaintances' dark secrets.
My personal take on the narration of The Lost Woman of Santacruz by Vijay Medtia:
The narration is sharp with ornate words. The description of the places and crime scenes is vivid and intense. Overall the novel is not a shallow attempt. It is as deep as our cogitation.
From the missing lady novel, we find that DCP Chandra was involved in gold smuggling or scandal from Dubai in the 1970s. But he got a clean chit in that case. Finally, it was his greed that got over him.
As the narrative of this novel jumped ahead, it was clear that the murders were by one person. Now this suspect could be a mafia person, out for revenge for that gold scam.
But why so late?
DCP Chandra was not an open person, after all. He was living with his girlfriend while his family was elsewhere: unbeknownst to his scams, sin, and shenanigans. But we could see that he was not happy with his life. He was alone.
The twist by Dhanpat, The Carpenter:
When you think you have figured The Lost Woman of Santacruz by Vijay Medtia out, you are proven wrong. It's when Dhanpat Rai, a simple carpenter, makes his entry.
He steers the novel in some other direction: the past. The recent killing and loss of one famous businessman was his doing.
Well, the police inspector has to find out with pieces of evidence. ACP Rohan from Delhi comes to solve the case to help the police. But in such a hurry, he almost ruined the case. He actually purely hates Ajay for his dignity, courage, and dedication to the duty. Nevertheless, ACP Rohan finally leaves the narrative rather disgruntled.
Also check out more reviews here: Art and Culture – Popularity
Coming back to our cunning Dhanpat Rai, I would say he fits well as a trump card. He was out on killing for sweet revenge.
But you would wonder why would a random carpenter kill two retired policemen? 
Getting into the 1970s storyboard, as a reader, you experience a different height of ecstasy.
My Verdict of The Lost Woman of Santacruz by Vijay Medtia:
In simple words, if you like a crime thriller, The Lost Woman of Santacruz will not disappoint you.
On the flip side, I found Ajay and Smita's chemistry quite unwanted. The author could have let it go and focus on the already thickened plot. But that's my personal opinion. No harm here!
Anyway, Mr. Medtia has done a great job this time as well.
I am going to pick more of his books no matter what. It is a riveting crime thriller with a measured mix of drama, action, pace, and adventure.
You too can pick up a paperback to enjoy it thoroughly. My honest take is that it's overall a brilliant novel, indeed.
Other famous reads on the site:
Mobile gaming giant Supercell set to release three new games! All you need to know